Title:
Tehanu
(Earthsea Cycle #4)
Author:
Ursula K. Le Guin
Blurb:
Years before, they had escaped together from the sinister Tombs of Atuan -- she, an isolated young priestess, he, a powerful wizard. Now she is a farmer's widow, having chosen for herself the simple pleasures of an ordinary life. And he is a broken old man, mourning the powers lost to him not by choice.
A lifetime ago, they helped each other at a time of darkness and danger. Now they must join forces again, to help another--the physically and emotionally scarred child whose own destiny remains to be revealed.
POSSIBLE SPOILER FOR PREVIOUS BOOKS IN THE SERIES
Can I say that I love this book more than the first three? Oh, of course I can. As a huge fan of the Earthsea Cycle, this reread only confirmed and deepened my love for the series.
This book has all the beloved characters and picks up the story that's left at the end of book three,
The Farthest Shore
, at another part of the world. I'm delighted to see Tenar back to the story. To some she may have never left, but to me not mentioning her in book three kind of made me think that Le Guin was going to just leave her there. That would be sad. In book two, she was a confused and scared teenager, while in this book, she's become a middle-aged woman. One of the main thing this book focuses on is Tenar--how she's changed from the priestess to a mother and a protector, how she lived as a woman in Earthsea world and her dealing with hostility from almost everybody else when it comes to her adopted child--Therru. I must say it's really interesting to see her change, the decisions she's made and the role she chooses to play.
So let's talk about Therru. She's the physically and emotionally scarred child with perhaps mysterious destiny mentioned in the blurb. She's
the
main character in this book. Though seemingly insignificant and small, she's the one that has the most impact on everything. It's strange that she rarely talks or do anything yet she's surrounded by most events happening in the book. She also reminds me a bit of myself when I was little--shy and quiet, mostly making observations and rarely talks, but I'm hella more privileged than her. Toward the end of the story I can see subtle developments of her opening up and becoming more trusting, but I'm glad that the author didn't rush it. She has a condition, and because of it people in the village despise her or are afraid of her, or even both. This is another issue that this book deals with, but strongly tied with gender inequality. More on that later.
As for Ged,
remember when I said in book three
that "he's in his fifties or so, with all the wisdom and none of the midlife crisis"? Ha ha ha. Guess what. In
this
book, he's still in his fifties or so, with ALL the midlife crisis and almost none of the wisdom. Isn't that ironic or what. Since he lost all his power to save the world, he becomes very weak, nearly dies, later on recovers but then becomes bitter, insecure, sad, scared, passive and just wallows in the corner. He's afraid to face people from his past who thinks he still possess the power of the Arcmage and that he could fix everything. He can't, and he's ashamed of it. In this book we see the process of him "recovering" from his emotional slump and learning to accept who he is, which is quite new and interesting to me because most of that kind of character developments are mostly depicted to happen to teenagers in young adult books. But. Awesome as he was, he still couldn't escape the misogynistic chauvinism (whoa big words).
And so let's approach the topic of feminism.
The Earthsea world, like others fantasy worlds, is a world of sexism. The most obvious indication of it is that only men are allowed to learn magic at Roke, only men are allowed to become wizards, while women with power are belittled as some invaluable witchery that does trivial stuff. I mean look, what comes to your mind first when presented the word "WIZARD"? (me: harry potter duh) Now what do you think when you see the word "WITCH"? At least, for me when I see "witch" the first image that pops into my head would be this: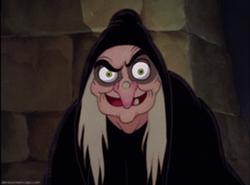 yep, that's the witch in snow white. you have no idea how this terrified me as a child. (i nearly had a heart attack when i googled it a moment ago) image source
Though Harry Potter did a great job giving me positive images of witches (oh hermione! luna!) an ugly, evil old woman cackling and brewing poisonous potion with a crow is still my first instinct association with witches. As a female the idea of women with power is dangerous is still ingrained in my mind in a way. There's a point made in the book that goes like this:
"What is a woman's power then?" she asked.




"I don't think we know."




"When has a woman power because she's a woman? With her children, I suppose. For a while..."




"In her house, maybe."




She looked around the kitchen. "But the doors are shut," she said, "the doors are locked."




"Because you're valuable."




"Oh yes. We're precious. So long as we're powerless."




―

Ursula K. Le Guin

,

Tehanu
And this:
"Why are men afraid of women?"




If your strength is only the other's weakness, you live in fear," Ged said.




"Yes; but women seem to fear their own strength, to be afraid of themselves."




"Are they ever taught to trust themselves?" Ged asked, and as he spoke Therru came in on her work again. His eyes and Tenar's met.




"No," she said. "Trust is not what we're taught." She watched the child stack the wood in the box. "If power were trust," she said. "I like that word. If it weren't all these arrangements - one above the other - kings and masters and mages and owners - It all seems so unnecessary. Real power, real freedom, would lie in trust, not force."




"As children trust their parents," he said."




―

Ursula K. Le Guin

,

Tehanu
I also find this powerful as words in the story:
"She thought about how it was to have been a woman in the prime of life, with children and a man, and then to lose all that, becoming old and a widow, powerless. But even so she did not feel she understood his shame, his agony of humiliation. Perhaps only a man could feel so. A woman got used to shame."




―

Ursula K. Le Guin

,

Tehanu
(All quotes from Goodreads)
One of the things I like about this book is that although it's set in a world that's super sexist, it still manages to show how wrong and absurd it is. Heck, even Ged the almighty (or used-to-be-almighty) still holds this kind of views. Perhaps it's not so blatantly obvious in the world we live in and nobody really dares to say it out loud, sexism still exists. Just a few months ago when I was spending my new years holidays at my grandma's house, I've heard one of my relatives saying he will not vote for a female candidate for president no matter what. Just. Because. She's. A. Woman. Like what even. Let's just go back to the book review lest I start ranting all over the place. It isn't all that bad in the book: Ged, living with Tenar and Therru, actually does get better at understanding women and not discriminating.
Another obvious issue is victim-blaming. So Therru is seriously hurt in her childhood. She was thrown into a fire and possibly sexual abused, and to the time the story unfolds those people who hurt her from her past still keep looking for her, stalking her and Tenar, finding a chance to get her and destroy her. People around the village are afraid of her. Many believe that she was cursed and possessed by evil power, therefore having the scar on her face and having to go through all of those horrible things was
her
fault.
Le Guin kind of did them justice in the end, but I think ultimately the whole point of
Tehanu
is to show us the other side of Earthsea world that never really got explored in previous books. Looking through the eye of females gives a whole new perspectives.
To quote
a review on Goodreads
,
A Wizard of Earthsea

and

The Farthest Shore

, you can take your dragons and shove em. Your wizardry's not wanted here. All your quests are just cruises and island-hopping, boys' own adventures. Fuck it all. This is the real story. The tedium and horror of regular life is more epic than your silly jaunts, and all your hoity-toity

man's

magic won't do nothing to save you here.
This review is kind of epic, that's all I'm sayin'.
I wanted to end the review there, but there's still things I haven't talked about and my review wouldn't be complete without them, as in, the plot and the writing. As usual, Le Guin's writing is poetic and beautiful. However, there are parts that are a bit implicit, call me an literature-inept, but there are parts that I had to read several times on repeat to understand what she was talking about. There was little plot, which isn't a problem for me. I like to imagine the plot as a vertical line with descriptions and settings branching out horizontally here and there. This book kinda looks like this:
hey...at least i tried.
It's ultimately about the society of the Earthsea world--a lot of setting, a lot of character development, a lot of description but little plot; the plot doesn't need to be really full anyway. My problem is the ending--way too abrupt, not fully explained and the big revelation is kind of predictable. (It still kind of reaches a satisfying level though. Kind of.)
Recommended to fans of the Earthsea Cycle, high fantasy, people who want to see the world other than adventure stories and those who want to see feminism in literature. Also, there are dragons. Yes, it's important. Dragons are cool.
Have you read the Earthsea books?
It's been a long time since the last time I met someone who has. What do you think? Seen any feminism in literature? Tell me all about it in the comments!