My school has a lot of rules and traditions, and holds quite some competitions. Most of them are ridiculous, one of which is what I like to call "unspoken mandatory". During summer vacation, we have summer school. It's not actually mandatory. They even asked us if we wanted to participate! And gave us a reply form! Problem is, what they teach during "summer school" is actually what we're supposed to learn
after
summer vacation, and nope, they aren't re-teaching those after school starts. It's like saying, "Oh, you don't want to join us? Fine, but you're gonna catch up on everything you missed all by yourself after school starts. Not my fault." So yeah, it isn't mandatory, but close enough. I do get why they do this--the damn education bureau actually thinks we can learn all that stuff in freaking two years when in fact it might take five years to properly absorb everything. Only way to learn all that in three years? YAY EXTRA LESSONS.
I wandered off. What I want to say is, there's also this speech competition at my school. A competition would only be fun if all the participants are willing to join, yes? School: "Nope, you gotta get at least one person out of each class to compete in this twisted speech comp because I said so. And if you don't? Detention.
Mwahahahaha.
" When they announced this, they actually said this straight out: This is mandatory. Yep, rare not-unspoken-mandatory-fakeness. Refreshing? Heck no. (and why do i even go on this detour explaining unspoken mandatory just for this? i don't know.)
So every year, every class struggles to
spit out
get one of their beloved peers to join the comp. Naturally, nobody volunteers. To solve this, we either draw lots or vote for someone who they think capable of it. The result? Me. (as you probably have guessed)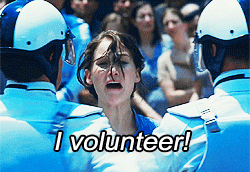 we ain't katniss everdeen. sorry, mate.
Later on, my teacher gave me a list of possible topics for the speech. Let me explain how it works. The participants draw numbers beforehand that decide the order in which we go on stage. Then they post a list of topics we'd make a speech about on the school website. We prepare. On the day de la comp, we draw the topics from a bag in the order of us going on stage every three minutes. Everyone has to speak for at least two minutes but three minutes at most. Also, every one has thirty minutes to prepare. It wasn't entirely impromptu, but it felt pretty much like it.
I had no such experience as making a speech. Nada. Why me? Probably because of my higher-than-usual tendency to answer the teacher's questions during class. (but that's NOT an indication to whether one is good at public speaking in any way.) Or my being more comfortable than others when making presentations in class. (but at least i got SOMETHING to present during presentation. powerpoint slides an i are totally bffs.) I probably sound like an ungrateful twat whining how good my speaking skills are. But there are people who actually get proper training for this kind of occasions. (hint: not me.)
So. My teacher gave me a list of topics that we'd draw from, when in fact I had no intention of taking the comp seriously. There, I said it. Yeah, I was being passive aggressive, but still they just can't drag people into the competition and make them do things. The topics? Oh, don't get me started on the topics. Here, I'll list some of them for you:
- ______ in My City (what the heck)/ On the Streets of _______(my city)
-On the Problem of Theft on Campus (no, there isn't any freaking theft in my campus)
-How to Lead a Successful Life (i'm not kidding)
-Democracy at School (um...none?)
-My Thoughts on Inter-School Group Dating (just because i'm in a girl's school doesn't mean we like inter-school dating okay?)
-How to Live a Wonderful Life (not kidding)
-Grasping a Purpose in Life (isn't that inspirational)
-Gratitude (yes, thank you very much)
-The Secret to Having a Wonderful Life (wait, i thought there's a topic for this already?)
-Black Out (um, what am i supposed to talk about? my experience? survival 101?)
-My Thoughts on Extra-Curriculars (actually, i think i'll write a blogpost about this. so there's a good one (so self-centred, mel.))
-A Harmonic Parent-Child Relationship
-many other inspirational generic shit (says a cynical little brat)
The day has finally come. Needless to say, every one of the participants are nervous and freaked out as hell. There are twenty-two of us, and there are only about seven or eight that actually know how to do it because they'd had proper training for this. The rest of us are basically frightened potatoes who had no idea why we were there.
I'm not going to go through every speaker in this post, but I'd say that most people are actually pretty awesome. Some talked about their stories and their pasts that I would never talk about if it were me. Some rambled on like I did, but they had awesome rambles. Some just did amazing.
As for me? Before I got the topic, I'd considered saying nothing for a full three minutes on stage as a form of silent protest. Easy-peasy also rebellious and rude. Seriously. Not that my topic is of anything interesting, but in the end, I decided that I'd make a rough outline about the topic, and just RAMBLE ON.
Guess what topic I got. Right, Grasping a Purpose in Life. Jolly wolly. But yes, I made an outline, freaked out like you do fifteen minutes before it was my turn, got on stage, stuttered, rambled and got down.
What can I say, really? Even I haven't figured out what I'm going to do to reach my goal in the future for my-freaking-self. I have no experience whatsoever. All I can talk about it theoretical and generic stuff. Hello judges, teachers and fellow participants. Today I'm talking about Grasping a Purpose in Life. How do you do it? Set a goal, use your resources, persist, commit to it, but I don't guarantee you'll succeed. Oh wait no, it has to be inspirational, so no negativity in the speech. You
might
succeed. I'm done, thank you.
Actually there's more. A lot of in-between silence because I forgot what to say. Also, a lot of stuttering. One thing that I'm most proud of (and shouldn't actually be), though, is that after I announced my topic to the judges, I tell them, straight up, that this topic is ridiculously
clichéd and aimless. Well, I'm glad I'm at least being a bit honest on stage and made some of the audience laugh. Another thing is that near the end of my speech, I was talking about doing what you can during high school. "If you're interested in science, try to do a project and participate in a science fair. (yeah, because i totally did that. not.) If you want to do something literary-related in the future...well...you can, um, join a speech competition? " Wow, Mel. Wow.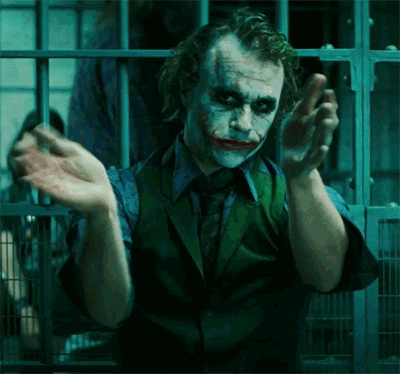 well done, mel.
So that's my epic public speaking experience. (as expected, i didn't win. the world would probably summon a zombie apocalypse in protest if i won, honestly.) (in case you didn't realise, that title is my totally being sarcastic. of course you would notice, right?)
Well, at least, as one of the teachers said, it's an experience, so take it easy and you might make use of it later. (like the dreaded interview with professors when applying to university, yeah?) That teacher is awesome, just saying. She's so motherly and kind, and even gave me a hug before it begins.
Ever done any public speaking? Made a speech? How did it go? Let me know in the comments, and we can all have a good laugh at me!